Today I'm excited to share a success story involving a client, good friend, and super smart lady – LeeAnne!
She came to me with one simple request – to start with some serious barbell strength training! To be more specific, she wanted to get stronger not only in the big barbell lifts, but also feel better, move better, and to perform better. And she definitely rose to the occasion when we began working on a 4 month program that entailed all of these qualities.
Prior to her contacting me, she had just gotten married, was off enjoying the time of her life, and was very lean! But, she said she was a little too lean for her liking, as she began feeling weak. And this is an interesting feeling, because no one really has a story for what happens after a specific goal has been achieved – in her case, she felt skinny, and weak, with no real plan for any more training afterwards. She expressed this to me, and we began working a week after she came back from her wedding vacation!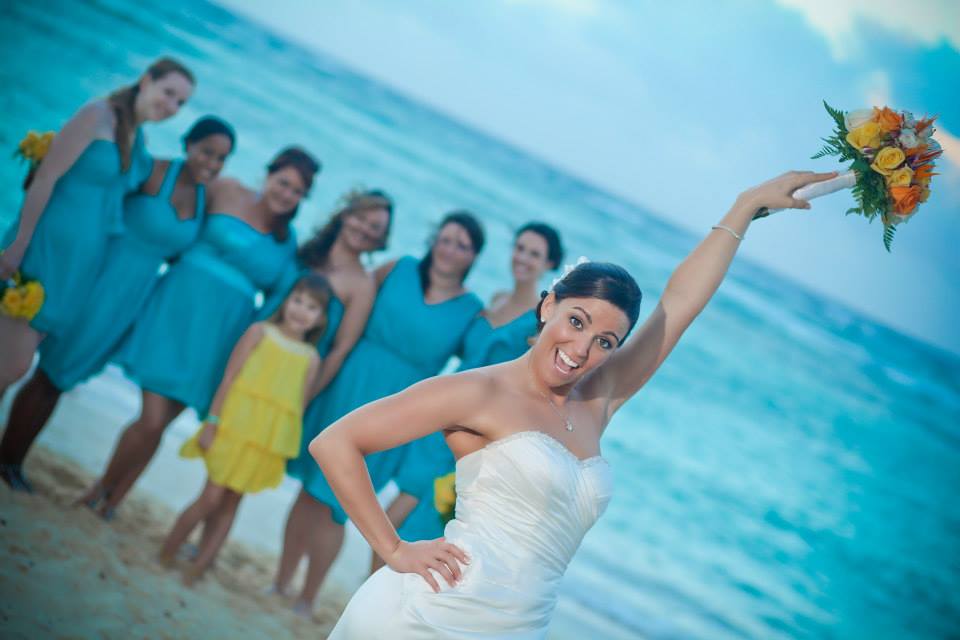 Since she was a former collegiate athlete, she was looking for a program that would push her, along with someone to motivate her to those next levels of performance.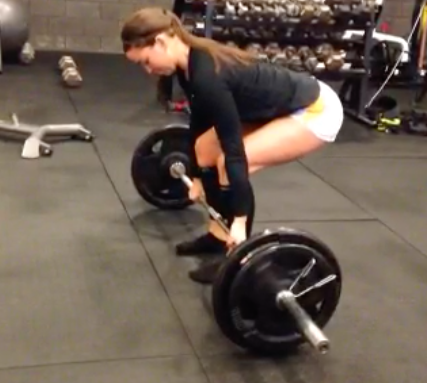 One thing to keep in mind is that she is currently working as an Athletic Trainer and strength coach simultaneously, so along with wearing multiple hats, she managed to work her schedule around for her own training, and in doing so improved her big lifts significantly.
How Often Does She Train?
With her schedule, some months had to be programmed for 3 days of lifting, and others with 4 days of training. But they all kept the same qualities in mind – training for strength, power, and improved performance. And on top of this, she dropped 8 pounds, without a specific focus on aesthetics or fat loss! This goes to prove a point that improving muscular strength levels, hypertrophy, and increased athletic performance can be improved if focused on, with fat loss being an indirect cause as a secondary cause of this training regimen.
How Strong Did She Get?
So what are the fruits of her hard work? To be specific, she went from 153lbs to 145lbs while increasing her big lifts by over 55lbs, while increasing her vertical jump over 5 inches! Before we divulge these numbers, let me say that she did two amazing things: 1) Her Front Squat surpassed her Back Squat numbers, and if anyone knows anything about lifting, this is an amazing feat because the back squat is a slightly easier lift to have higher numbers with! and 2) She PR'd recently with a <1.5x Bodyweight Deadlift! She was very excited, and I was super stoked as well to see that video happen!
Well, enough story telling and onto the nitty gritty numbers:

"Along with each week my accessory exercises increased as well. It was amazing to see my own progression and hard work pays off!"
[youtube=https://www.youtube.com/watch?v=eWRoxUS0FOw]
I don't need to talk about her incredible work ethic, so I'll let her take it from here!
"Miguel has exceeded all possible expectations as a coach (from distance) for me. He not only has helped me accomplish every PR I have ever had but has given me a better understanding on how to train hard and how the body responds to everything we do and to listen to our body. Not only is he intuitive about exercise programming, but he also passionate and wanted to see me succeed and reach my goals. In doing so, he expressed his care on a consistent basis that helped motivate me everyday. He would check in on how I was doing and have a conversation about training and about life. It is interesting how the two tie together and how it effected me each morning and into my lifts. I have learned so much from Miguel and his knowledge on posture and structure, lifting, biomechanics and physiology. But I have also learned just as much about life, hard work, commitment and having a positive attitude from Miguel. 

Left = Before at 152lbs, Right = After 145lbs

Miguel was systematic in his approach to guiding me to success. He created a well thought out and intense 4-month program for me. When having conversation with him and relaying feedback, he would make adjustments as needed. Since I had 2 knee surgeries he was considerate of my injury history and was able to make alterations that were beneficial. He understood my need and drive to be in the gym and he made it fun, challenging and an overall great experience for me! I am extremely appreciative of Miguel's time, hard work, passion, and dedication to me as a client. However, I never felt like a "client". I felt like a friend that he was setting up for success. His genuine approach, care and empathy is part of what drove me each day to be in the gym and make an overall impact on my life—I cannot say that about a lot of coaches I have had, but I can about Miguel.  Huge thank you to Miguel- I couldn't have done it without you my friend." ~LeeAnne
*Bolding is an emphasis on my part.
Working with LeeAnne was definitely a fun time for me as well, as I enjoyed getting texts of her personal records and working to motivate her when she was tired after a long day of working.
If there is anything to take away from her testimonial, not only am I insanely proud of her accomplishments, but I am also in awe of her work ethic. Keeping in mind that with many online programs, if you don't show up to put in the work, nothing will get done – and she definitely showed up!
If you'd like to discuss the possibility of working with me in my 1-on-1 coaching program, feel free to contact me at ma@miguelaragoncillo.com. Considering the high amount of e-mails I receive, please put "COACHING" in the subject line to catch my attention and to make sure that I respond as soon as possible.
As always,
Keep it funky.
MA