On any given weekend night, for what it is worth, I'm usually trying to "deload" mentally from the week, so I can be found munching on some appetizers and drinks, chatting up old and new friends, and the inevitable question always comes up:
New Friend: "So what do you do?"
Thinking to Myself: *Gosh, where do I start? I do a lot of things, and if I say I'm a personal trainer I'm sure they'll get these images in their head of clients standing on stability balls, or of me counting reps as clients do bicep curls. Maybe I should start with my title…? But what does strength coach really mean? If I say strength coach will they think of little kids running around doing those speed ladder drills? I mean they probably don't understand the nuances and importance of rib positioning, or tempo runs to increase aerobic capacity, so… what do I say first?*
Or better yet – this is my attempt at making an elevator pitch of "what I do":
Coach and assess athletes in a variety of movement patterns and exercises, write their programs, and while encouraging success in their athletic endeavors (and life!).
In all honesty this situation does pop up quite a bit whenever I meet new people who have no idea what I do for a living. And when this question pops up, I'm not sure most will understand what many of my colleagues and I "go through" in order to excel at our jobs – writing exercise programs AFTER work, learning the nuances of assessing clients and athletes, going to continuing education seminars, courses, and conferences to better our ability as coaches and trainers – the list can go on. So, this is an attempt at breaking down what I specifically do:
Where Do You Work?
There are three sites to our facility called Endeavor Sports Performance. The main location is in Pitman, NJ.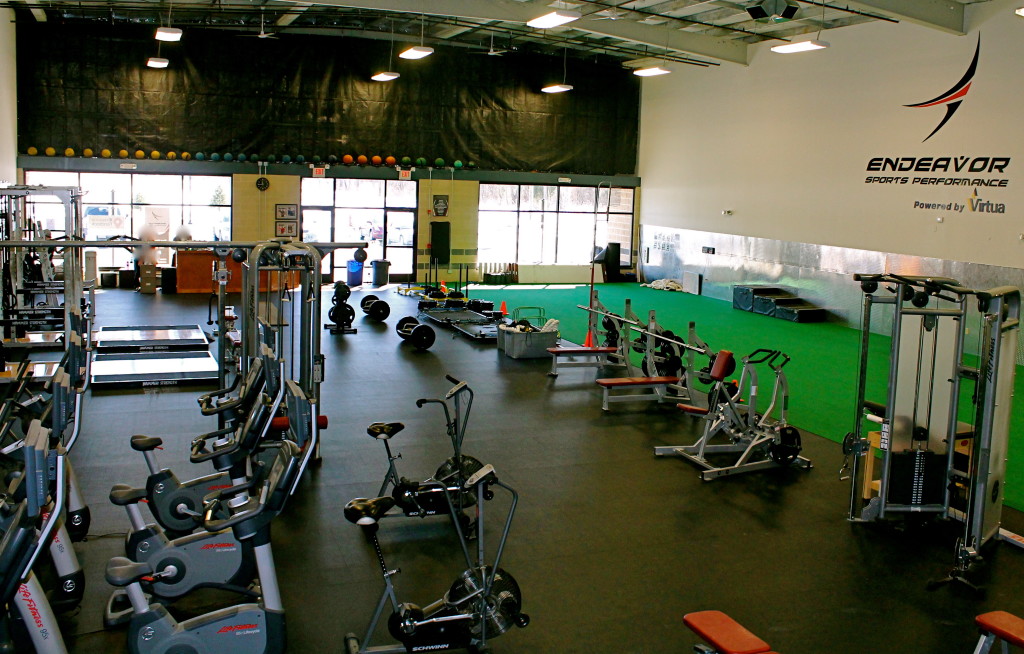 The other two satellite locations are in Pennsauken, NJ


… and the newest addition is in Conshohocken, PA.

The main facility has the most toys, and is one that is constantly being upgraded with fancy equipment that is slowly creating the ultimate athletic and sports performance facility.
What Do You Do?
So this is the main question, and I'll break down the roles that I'm involved in:
Coaching
Coaching is the most important aspect of working as a strength coach! What an idea! Being a strength coach, at least to me, entails these items:
Having the ability to relay cues and information to the athlete to inform, and guide them to the path towards movement success.

Sometimes they need strong words of encouragement to get out of a funk in order to get their act together, other times it is a heavy deadlift to help improve their total body strength, and other involves putting a band around their knees to remind them to dial their knees out during many movements.

On a more literal point of view, coaching involves learning and teaching cues for essentially every exercise that is within Endeavor's wheelhouse.
Foam Rolling, all the dynamic warm-ups, positional breathing exercises, bilateral lifts (upper/lower), unilateral progressions/regressions, corrective exercises, along with conditioning protocols.
Assess Athletes
This is admittedly one of the "sexier" aspects of working and doing what I do. Specifically, I get to see a wide variety of specific athletes within their sport.
Learning the assessment process has been a long and fruitful road, and I'm sure I will learn more as I continue down this path. However, the main portion here is learning the nuances of the movement assessments. For example, 3 years ago I could not tell you the difference between a positive Thomas Test which indicates, and one that is simply "held back" by a rec fem tightness.
After figuring out where this specific individual lies on a continuum of assessment philosophies (FMS, PRI, a few SFMA tests, and other orthopedically minded tests), we begin the next part of the process: writing programs!
Writing Exercise Programs
After doing the assessment, I'm not in the clear yet. There are aspects of interpreting the assessment information, and then writing an immediate 4 week program (or however long in reality), with a larger goal in mind for that specific athlete.
Based off the training age of athlete, along with assessment, and what the athlete may be comfortable with (mentally, physically, etc), an individual program is created. This allows the staff at Endeavor to custom tailor each program using a variety of methods – concurrent periodization, conjugate periodization (not exactly Westside Barbell however) along with several other methods that go beyond the scope of this article.
Miscellaneous Stuff
Things that I do entail all of the fun "extraneous" stuff – such as taking calls, emails, paperwork, and making sure athletes and clients finish in a reasonable amount of time.
So … Who Do You Train?
Primarily, the goal of Endeavor Sports Performance is to work with athletes looking to excel within their, dare I say it, athletic endeavors.
This isn't to say that we turn away anyone who isn't an athlete, no. We also take lots of regular folk looking to move, look, and feel better!
On a personal note, I've had a fair amount of time coaching in all facilities equally. While in Pennsauken, I've trained the private youth hockey teams, and now I train a private youth baseball team in Conshohocken, PA.
Do You Even Lift?
Yes, on a personal note, I do lift and primarily follow a powerlifting plan or schematic almost 3/4 of the year. The other 1/4 of the year I'm either playing around with different lifts (unilateral variations) or just deloading from the stresses of working, traveling, and lifting.
Also, I have done 2 powerlifting meets in the past 3 years, and I do plan on continuing with that in the near future.
What Do You Do For Fun?
I also dance with a local crew in Philly, called RetroFlow Crew.
Dance? Yes, I bboy, or if you are unfamiliars – I breakdance.
On that note, I do practice about 2 times a week, 3 times if I'm lucky, and I'm currently trying to improve my powermoves and transitions into and out of them.
Other than that I read books on training, conditioning, and travel to network, learn what other coaches and gyms are doing, and doing my best to absorb what is useful (and discard what is not – epic Bruce Lee reference *fist bump*).
As always,
Keep it funky.
MA