In a recent post, Joint by Joint Approach and What This Means for Bboys, I go over an ideal training scenario in which I go over the sequential steps that would lead to optimal training for bboys and bgirls.
To reiterate the above post, initial steps prior to any athletic endeavor would involve identifying any dysfunctional movement patterns. If anything were found to be a possible "red light" in any movement pattern, then an intervention of sorts would take place.
Thanks to R.A.M. Squad, a a hip hop and break dancing student organization originating from Penn State, I'll be sponsoring a table at this weekend's bboy event, Rhythm Spotlight XI, doing all of the above. The event is on January 25th, at Heritage Hall Hetzel Union Building (HUB), University Park, PA.
(If you're interested, I'd recommend showing up early and getting assessed before the battles start, so you don't miss any of the action!)
More specifically, I'll be going through movement assessments and providing bboys, bgirls, and dancers injury prevention tips – for FREE.
With regards to my own specific scope of practice of being a strength coach and trainer, that involves utilizing targeted areas of self-myofascial release to inhibit tight musculature, reintegrating neurodevelopmental movement patterns through specific exercises, and then activating subsequent muscle groups that are found to be inhibited.
How Would a Movement Assessment Help Me?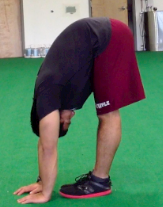 I've had the opportunity to assess a handful of breakers within the Philadelphia area, so I am excited to have an opportunity to provide my services to other dancers local to not only in the Philadelphia area but from around the country, as this event will be bringing in tens if not hundreds of competitors and spectators from outside of the area alike.
First of all, I've noticed that dancers tend to utilize different muscular strategies based on their individual movements chosen in their respective style and dance. However, some immediate questions arise whenever I watch a dancer move, or assess them personally:
Is this dancer utilizing his/her hips effectively?
How much stabilization is coming from the "core", and not other synergistic stabilizers?
Is their appropriate usage of shoulder and scapular stabilizers and upward rotators as you do your handstands and powermoves?
Are they leaving anything "in the tank" because of a previous injury that did not heal or recovery appropriately?
Should they even be dancing with that type of injury?
Could they recover faster by taking a day or two (or week) off from such provocative maneuvers?
Secondly, I've been finding some interesting things with regards to breakers from these assessments, and I'd like to expand on these observations before concluding a thought process:
Association between cervical neck rotation and flexion, and intermediate/advanced bboys who practice head and neck related powermoves.
Onset of lower back pain due to the lumbar flexion and rotational components often seen in routines and sets.
Shoulder, elbow, wrist, knee, and ankle injuries, sprains and "tweaks"; both chronic and acute/traumatic onset injuries.
The associated practices used by current bboys and bgirls involved with "return to dance" (e.g. icing, stretching a pulled muscle, etc.)
In addition to the world renowned DJs and judges, think of this as the icing on the cake, especially if you are going to support your crew because you may have been "sidelined" due to injury. If you were on the fence about going to this event, I'd highly consider taking this opportunity to take advantage of a FREE movement assessment and injury prevention advice I'd be offering.
Find more information on the event Rhythm Spotlight XI HERE and the RAM Squad HERE.