I had the opportunity to talk with Dr. Pat Davidson, and this time around we had a lot more time to discuss stress adaptations, bio-energetics, and of course PRI. Fortunately for you, we definitely went over our 30 minute allotted time slot that I attempted to preserve.
Here is the first 3 hour long podcast – Taking the Path Less Traveled – Episode 1 with Pat Davidson.

I'm also in the process of looking towards making this more audio-friendly for our commuter friends, as this video on Google Hangout can't be accessed from a mobile device (as far as I know).
In any case, here are some notes I took during the second interview, and some of the books and authors we had to discuss.
I do not profit from these links in anyway. I would tell you otherwise. ;)
Books, Authors, and Courses Discussed
Vladimir Issurin – Block Periodization
Nassim Nicholas Taleb – Anti-Fragile
Postural Restoration Institute – Courses
UPDATE: Here is a Soundcloud version! :)
[soundcloud url="https://api.soundcloud.com/tracks/161202531″ params="color=ff5500&auto_play=false&hide_related=false&show_comments=true&show_user=true&show_reposts=false" width="100%" height="166″ iframe="true" /]
Timeline of Events
1:50 – Pat's New Logistics
2:50 – PRI and Adaptation
9:20 – "PRI is a recovery BOMB."
9:38 – "You can only train as much as you can recover."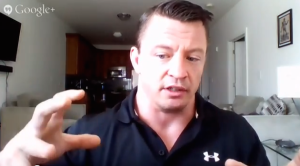 10:00 – What are the intangibles needed to be a successful Strongman athlete?
12:35 – How do you approach nutrition in the coming weeks for a Strongman competition?
13:45 – Satiation, Food and Inflammation
16:07 – Strongman Training Volume, and Prepping for Competitions
20:50 – Suck It Up, and Do Work!
21:00 – Do you use any technology to assist in training?
24:04 – Fragile vs Anti-Fragile
29:45 – "…You're basically throwing yourself head first off a cliff."
31:07 – Mouthguard Discussion
33:20 – PRI Reference Centers
43:24 – "You have all the money in the world. What does your dream strength and conditioning facility look like?"
44:28 – If we were to look into your fridge right now, what would we find?
45:12 – "You're driving to a training session. What is playing on your radio before you get to the facility?"
46:40 – "What kind of "hard skills" do you believe you need to succeed as a strength and conditioning coach?"
50:54 – "People undervalue specificity."
52:05 – "Corrective Exercise is a scalpel…"
—
As always,
Keep it funky.
MA