Today's exercise combination is a little different! In other installments, I usually went over some neuromuscular strategies to increase strength, to combine multiple movements that will help improve motoric control of a movement pattern, or anything of the like.
In conjunction with the awesome weather we are having recently, I'd like to ride the wave of people gearing up for beach season (see what I did there?).
With that said, the most interesting piece of equipment in any gym I believe is the kettlebell. It is shaped funny, you can swing it around, press it, row it, have it as a door stop, and do all types of awesome stuff with the kettlebell.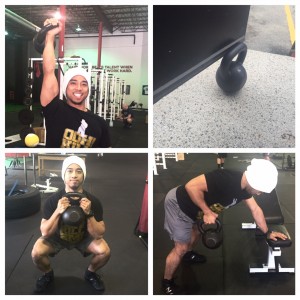 Now, to use this piece of equipment in a circuit, let's make it quick, get it done, then step away from it.
Do the thing, and you'll have the power. ~Ralph Waldo Emerson
Sometimes just focusing on the process of what should be done, over deliberating, deliberating, deliberating, and then making a decision has power with respects to just doing it. Too many people are uneasy with the decision to make, too many people are unfocused, and too many people are looking for the next shiny object. Sometimes what you have to work with is the rusty, hunk of metal, tucked away in the corner of the gym, waiting to be thrown around a few hundred times. Sometimes that is what it takes to get what you want.
So if you're focusing on  the ability to produce force, improve recovery between tough training sessions, or just looking for a way to sweat, check this exercise combination out.
A1. Kettlebell Swing – 12 reps
A2. 1-Arm KB Row – 8/side
A3. Kettlebell Goblet Squat 12 reps
A4. 1-Arm KB Half Turkish Get Up – 3/side (easy inhalations/exhalations in between movements)
Complete 4 Rounds. Rest 90 to 120sec in between rounds, or until heart rate is between 130 and 140.
Performing these movements in a circuit like fashion with little to no rest is a great way to get your weekend started. Do this specific circuit at the end of your workout every other day of the week, and in conjunction with a dedicated focus on what you are eating, I'm sure you will see results towards an aesthetic you may enjoy seeing in the mirror every day.
That's it! I want you to enjoy your day, so complete this circuit, get a nice sweat in, and enjoy your weekend/day/life.
As always,
Keep it funky.